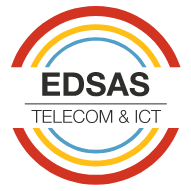 Lawyers
Solutions for lawyers
Lawyers are often on the road, but must be constantly connected to their email and telephone to stay up-to-date. A flexible arrangement of telephony and home working options ensure that information is available at all times. EDSAS deploys its internet and telephony solutions for many law firms. Hosted telephony can be used flexibly and can therefore grow with the law firm. Moreover, with our solutions, a home workplace within the Netherlands (or at the holiday address) is easy to install.
Questions or information?
If you have any questions, please do not hesitate to contact us, we will be happy to help you.